Businesses Need To Be Ready For Pandemic-Related Employment Claims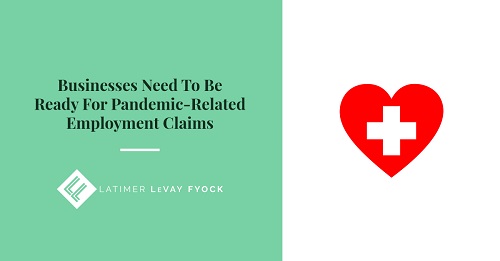 Uncertainty is one of the hallmarks of the COVID-19 era. Individuals and business owners alike face uncertainty about the continuing spread of the pandemic, uncertainty about how local, state, and federal governments will respond to increases in cases, and uncertainty about whether their company's doors will remain open and their kids' schools will remain closed.
But no matter what happens next, employers can be sure of one thing: the economic, personal, and legal upheaval caused by coronavirus will lead to an increase in employment-related claims. Workers are struggling with childcare, financial, and medical issues, and employers are trying to keep their workforce safe while remaining viable enterprises. Disputes, mistakes, and misunderstandings between employers and employees about their respective rights and obligations are bound to arise in an ever-changing legal landscape.
Employers need to prepare for such claims, which will involve several different aspects of employment law. Here is a snapshot of four issues likely coming down the pike:
Wage and Hour Claims
The wholesale move to remote work for millions of workers has created many challenges, including how companies and employees keep track of their time spent on the clock. When an employee is working from their kitchen table, employers can't rely on traditional tracking mechanisms to determine when and if employees are taking legally mandated rest and lunch breaks or when they start and end their workday, among other wage and hour issues.
As a result, employers may be vulnerable to claims that they failed to provide and/or pay for all required break periods or whether they have correctly accounted for hours worked for purposes of calculating overtime pay. Additionally, employees who needed to incur expenses to do their jobs remotely, such as for internet upgrades, monitors, or other equipment will expect to be compensated for those costs.
Companies that haven't done so already should implement best practices for tracking employee time, maintain clear communication about expectations and requirements, and establish mechanisms for addressing and resolving disputes about wage and hour issues.
Family and Medical Leave Complaints
Federal legislation passed in response to the pandemic provides new leave rights to workers that can preclude employers from terminating employees who exercise those rights.
The Families First Coronavirus Response Act (FFCRA), which applies to employers with fewer than 500 employees, established a new type of approved and protected leave: paid family and medical leave related to the COVID-19 pandemic. This type of leave is available to employees who must take time off because of their own possible COVID-19 sickness, to care for someone in their household who has been diagnosed with COVID-19, or to care for their minor children because COVID-19 has closed their school, daycare center, or other child-care services. The first two types of leave are limited to two weeks, but the third type (to care for a child) can run up to 12 weeks total. You can read more about employer obligations under the FFCRA here.
Of course, the Family and Medical Leave Act (FMLA), which applies to employers with at least 50 employees, would also cover many requests for leave by an employee for their own serious health condition (which would include COVID-19 infection but likely any health issue that puts them at high risk for COVID-19 as well), or to care for a family member with a serious health condition.
The key component to both the FFCRA and FMLA is that employers covered under the act cannot retaliate against workers who exercise their right to leave. As a result, any employee who has requested leave under either of these acts will have certain legal protections, including possibly job protection and a guaranty to return to work.
In upcoming months, employers may face allegations that they failed to comply with their obligations under the FMLA and FFCRA, or that they wrongfully retaliated against employees who availed themselves of their rights thereunder, as well as any state and local laws involving medical and family leave.
Requests For Reasonable Accommodations Under the ADA
While everyone is vulnerable to contracting COVID-19, some people are more at risk due to preexisting health conditions such as immunodeficiency disorders. For such workers, the Americans With Disabilities Act (ADA) may require an employer to make a "reasonable accommodation" to allow the worker to do their job in a way that accounts for their disability in the context of the pandemic.
The Equal Employment Opportunity Commission (EEOC) has issued guidance on several ADA-related issues that intersect with the pandemic. Employers need to remain mindful of their ADA obligations and be wary of unfairly denying requests for accommodation, especially those involving telework. The fact that so many companies successfully moved to remote work during the pandemic may make it challenging for employers to claim that allowing an employee to continue working from home isn't "reasonable," or constitutes an undue burden on the employer.
In their efforts to keep their workforce safe, employers also need to ensure that their efforts to screen or test employees for the virus do not run afoul of the ADA and other anti-discrimination laws.
Under the ADA, employers can require that their employees take medical tests that are "job-related and consistent with business necessity." According to EEOC guidance, preventing infected individuals from spreading coronavirus to coworkers is clearly "consistent with business necessity." Accordingly, "employers may take steps to determine if employees entering the workplace have COVID-19 because an individual with the virus will pose a direct threat to the health of others." These steps include electing to administer COVID-19 tests to employees before they enter the workplace to determine if they have the virus, as well as conducting temperature checks and asking about symptoms. However, employers should take steps to ensure that any such tests or inquiries are done in a neutral, non-discriminatory manner.
While employers can require that employees be tested for the virus, they cannot require antibody testing under the ADA, according to the EEOC. In making that determination, the EEOC relied on the CDC's Interim Guidance on antibody testing, which states that antibody test results "should not be used to make decisions about returning persons to the workplace." As such, the EEOC concluded that antibody tests fail to meet the ADA's "job-related and consistent with business necessity" requirement for medical exams. "Therefore, requiring antibody testing before allowing employees to re-enter the workplace is not allowed under the ADA," the EEOC says.
WARN Act Claims
While the federal WARN Act requires that employers with 100 or more employees provide workers with at least 60 days' notice before closing or laying off a certain number of workers, Illinois' WARN Act imposes the same obligations on employers with 75 or more full-time employees. "If a covered employer is forced to close or significantly reduce its workforce in the form of a mass layoff" due to COVID-19 or restrictions on operations imposed due to the pandemic, the Illinois WARN Act will apply.
If an employer fails to provide the required notice and is not otherwise excused from that obligation, it is potentially liable to each affected employee for back pay and benefits for the period of the violation, up to a maximum of 60 days. The employer may also be subject to civil penalties of up to $500 a day.
Keeping You Safe and Informed
We know the COVID-19 pandemic is placing unprecedented strain on business owners and their employees, no matter the size of their company or nature of their industry. The attorneys at Latimer LeVay Fyock are committed to providing our clients with the most accurate, up-to-date information about legislative and other developments related to the virus. In addition to providing frequent updates on our blog, we are available to answer any questions and address any concerns you may have. Please contact us to discuss your specific issues.