Willfulness No Longer Required to Obtain Defendant's Profits in Trademark Infringement Suits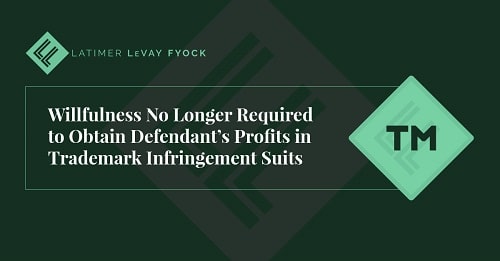 On April 23, 2020, the Supreme Court, in Romag Fasteners, Inc. v. Fossil Grp., Inc., settled one of the longest running circuit splits in trademark law, holding the willfulness is not required to obtain defendant's profits in a trademark infringement lawsuit.
The Law
Trademark law is one of the few areas that specifically allows for defendant's profits to be awarded to a prevailing plaintiff. The logic behind this is that since trademarks are indicators of source or sponsorship, one who infringes or misappropriates a mark has also unlawfully used the goodwill associated with it to profit. The burden then shifts to the defendant to show that any profits were not the result of the infringement. This is enumerated in 15 USC 1117(a), of the Lanham Act.
Section 1117(a) states "[where there is] a violation under section 1125(a) or (d) of this title, or a willful violation under section 1125(c) of this title . . . [a] plaintiff shall be entitled, subject to the provisions of sections 1111 and 1114 of this title, and subject to the principles of equity, to recover defendant's profits." After the adoption of Section 1117(a), a significant circuit split arose between circuits which required a showing of willfulness and those which considered willfulness as only one factor among several under the principles of equity. On the extreme ends of this spectrum were the Second Circuit, where a plaintiff could not hope to obtain profits without a clear showing of willfulness and the Seventh Circuit, that never required willfulness to obtain profits.
Case Background
Romag Fasteners, Inc, a producer of magnetic fasteners, sued Fossil, Inc. for continuing to use magnetic fasteners bearing the ROMAG mark on its internationally known handbags, long after a contract between parties, allowing usage of the mark, ended. In 2014, a jury in the District of Connecticut found Fossil liable for trademark mark infringement and made an advisory award, which included defendant's profits under Section 1117(a). The district court then held that Romag could not recover profits because the jury did not find that Fossil had acted willfully. The Federal Circuit, hearing the appeal due to accompanying patent claims, applied Second Circuit law and held that a finding of willful infringement is required to obtain profits in that Circuit. Curiously, apparently in disagreement with the Second Circuit, it made great attempts to see if it could overturn that precedent. Ultimately, the Federal Circuit stated that it saw nothing in the history of the statute that would permit it to declare the Second Circuit's precedent no longer good law. The Supreme Court then granted Romag's petition for certiorari.
The Holding
The Supreme Court unanimously ruled the legislative history and text of the law did not require that willfulness be shown before an award of defendant's profits. They further held that the explicit requirement that the award of profits be pursuant to the principles of equity foreclosed any rigid requirements, including willfulness. It concluded by holding the only method by which willfulness could be required would be if Congress explicitly changed the law.
This decision is a landmark event in trademark law, as this circuit split has existed for upwards of 60 years. Trademark practitioners are hopeful that it will result in more consistent decisions.
*Rachel Miller, a law clerk at LLF and third-year law student, was a principal author on an amicus brief filed on behalf of Intellectual Property Law Association of Chicago ("IPLAC") amicus brief, alongside attorneys Amy Zeigler and Patrick Burns of Greer, Burns & Crain. Patrick Burns was Counsel of Record. The Supreme Court agreed with the arguments presented in IPLAC's brief