Victory for Latimer LeVay Fyock's Client Zacks Investment Research, Inc.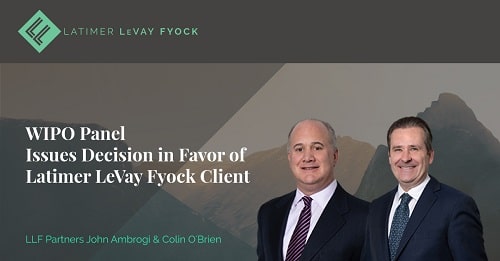 On March 19, 2020, a World Intellectual Property Organization ("WIPO") Panel issued a Uniform Domain Name Dispute Resolution Policy ("UDRP") decision regarding Latimer LeVay Fyock's client Zacks Investment Research, Inc. ("Zacks") that ordered the transfer of the domain name <zackstrading.com> to Zacks.
Founded in 1978, Zacks has been offering independent research and investment related content to customers in the financial industry. Zacks provides professional investors with financial data and analysis which allows its customers to make better investment decisions for their proprietary accounts and the investment accounts of clients. Zacks research services are used by thousands of analysts at hundreds of brokerages throughout the world in order to provide their clients with reliable investment information. Zacks also manages over $5 Billion of client assets through its Zacks Investment ManagementZacks also operates <zackstrade.com> which allows individual investors both U.S. and international to actively trade on their IRA account.
Earlier this year, Zacks discovered a website called <zackstrading.com> that claimed to offer services identical to Zacks core business. This discovery necessitated the filing of a UDRP Complaint to insure Zacks customers and the general public were being directed to a website that did not offer Zacks services.
The WIPO Panel acknowledged that <zackstrading.com> was confusingly similar to marks owned by Zacks writing "Zacks is the distinctive element of the Domain Name, as it is not a dictionary word, and it is identical to the Complainant's ZACKS mark. The Domain Name incorporates this mark in its entirety and adds the term "trading", which does not avoid the confusing similarity."
The WIPO Panel also accepted the Registrant of <zackstrading.com> had no rights or legitimate interests in the disputed domain name writing "Complainant has established its trademark rights, the Respondent's lack of permissive use, and the Respondent's use of a confusingly similar Domain Name to advertise competing services. The Respondent has not come forward with a demonstration of rights or legitimate interests, and these are not evident from a perusal of its website."
Lastly, the WIPO Panel found the <zackstrading.com> was registered and used in bad faith writing:
"…it is true that the Complainant was using ZACKS marks before then, and very visibly online, including domain names quite similar to the Domain Name that the Respondent registered (prominently <zacks.com> and <zackstrade.com>). As the Respondent used the Domain Name for a website advertising information about capital investment and stock trading, in the same field as the Complainant's multi-billion dollar business, it is probable that the Respondent was aware of the Complainant and chose the Domain Name for its value in attracting Internet users familiar with the Complainant's distinctive mark.
The Panel finds support for this inference of bad faith in the facts that the Respondent has obscured its identity on the website, has evidently not provided accurate contact information, and has emphatically declined to address the Complainant's trademark claims. The Respondent expresses the belief that "whoever bought it owns it" regardless of "copy rights" and demonstrates a casual disregard of the trademark rights in which others have invested."
The full decision in Zacks Investment Research, Inc. v. Parker Mitchell, Regal Consulting, LLC Case No. D2020-0407can be found here.
Zacks Investment Research, Inc. was represented in the proceeding by Latimer LeVay Fyock attorneys John L. Ambrogi and Colin T.J. O'Brien.