News
Trouble in Paradise Averted: LLF Attorneys Block TRO Seeking to Remove Client From Management of Caribbean Hotel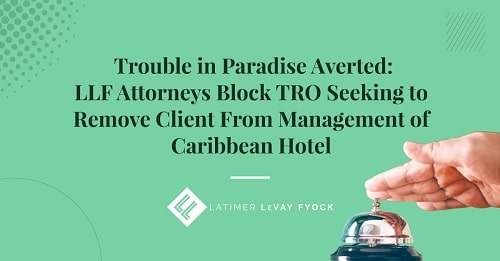 The Caribbean paradise of the Turks & Caicos Islands is worlds away from the Circuit Court of Cook County, but the fate of a boutique hotel in the former depended on the efforts of Latimer LeVay Fyock litigators in the latter. Specifically, LLF attorneys Bob Minetz and Alexander Passo recently defeated a request for a temporary restraining order that would have removed their client from ownership and control of the hotel she was instrumental in making a success.
The case involved a husband and wife who moved to Turks & Caicos and bought a run-down property with the goal of renovating it and opening a boutique hotel, bar, and restaurant. The wife, represented by LLF, and her husband formed a limited liability company to operate the hotel and a limited partnership to purchase and hold title to the property. The husband was in charge of its finances, legal responsibilities, construction and renovations, while the wife handled the hotel's administration and operations.
Shortly after opening the hotel in 2019, the couple separated. Despite initial efforts to try to run the hotel together, they were unable to do so. Their relationship continued to deteriorate and they became deadlocked. The wife filed for divorce, and on her behalf, the firm also filed a lawsuit relating to the deadlock in which she accused her estranged husband of corporate waste, failing to properly account for its finances, failing to file tax returns, and allowing the entities to be dissolved, along with other misconduct. LLF's attorneys defeated the husband's motion to dismiss that suit. During this time, as she had since the start of the endeavor, the wife continued to run the hotel competently, responsibly, and according to her legal obligations.
Nevertheless, the husband engaged in machinations designed to remove the wife from ownership and management of the hotel. A group of limited partners aligned with the husband created a new LLC which they claimed should replace the current general partner of the limited partnership and sought to replace the wife who is currently running the day-to-day operations of the hotel in the interim while the disputes are pending.
The new LLC filed a lawsuit in Cook County accusing the firm's client of various contract and fiduciary duty breaches and other malfeasance. In that suit, the new LLC sought a temporary restraining order and/or preliminary injunction that would have effectively allowed the husband and entities under his control to take over the management and ownership of the hotel. Minetz and Passo successfully defeated the LLC's motion, avoiding further disruption to the hotel's operations and protecting their client's rights and interests in a project in which she invested substantial time, money, and effort. The underlying litigation remains pending.