Securing Loans With Intellectual Property Assets: What Lenders Need to Know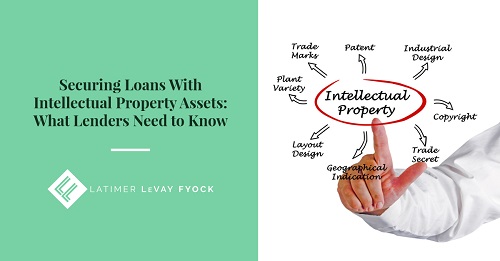 You would be hard-pressed to identify a business that did not have at least some intellectual property (IP) assets. While a global biotech company certainly will have a much more expansive, complex, and valuable portfolio of IP assets than a local, family-owned manufacturing firm, every company has, at minimum, a brand, a name, proprietary trade secrets, and other forms of these intangible assets.
Trademarks, patents, and copyrights have become core aspects of an increasing number of businesses over the past decade or so. As a result, asset-based lenders have turned to IP portfolios as another form of collateral to secure their loans. But while using IP as collateral can enhance the security of a loan, it presents banks, investors, and other lenders with unique challenges. Simply put, purchased tangible assets found in a warehouse or on a factory floor (and on a company's balance sheet) are much easier to value and secure than internally developed assets that exist in the cloud.
Accordingly, while lenders should not shy away from opportunities to enhance their security using a borrower's IP assets, they need to proceed with an understanding of what makes doing so different from tangible asset-based lending.
Valuation and Due Diligence
Determining the scope and value of a company's IP portfolio is one of the threshold issues for lenders in deciding whether and how much to loan a borrower pledging its IP as collateral. As opposed to inventory and equipment, where established methodologies can determine the value of such assets today and in the future, the value of a company's IP assets is much more speculative. For example, some IP assets like trademarks generate revenue streams through licensing agreements while other "passive" forms of IP do not.
For patents and trade secrets, valuation requires a deep understanding of the legal, technical, and economic aspects of the underlying inventions. Similarly, placing an accurate value on marketing assets such as trademarks and trade names, which can rise and fall depending on a company's fortunes, requires a substantial amount of expertise.
For these reasons, prudent lenders often retain independent IP experts and lawyers to conduct due diligence and determine a portfolio's value. This includes looking at whether the IP is protected through registration, whether there are any outstanding and unresolved infringement claims, whether the IP owner's rights are subject to an assignment or a license, and whether there are other security interests registered against assets in the IP portfolio.
Securitization
Any asset pledged as collateral only has value to a lender if it is properly secured and documented. As with valuation, perfecting security interests in intellectual property assets is not as straightforward as it is for tangible assets.
The Uniform Commercial Code, as adopted by the states, governs the perfection of security interests in both tangible assets like equipment and inventory, and more familiar intangible assets like accounts, revenues, receivables, income, and contract rights. However, the perfection of interests in patents, trademarks, and copyrights is governed by federal law under certain circumstances. This interplay between state and federal law can create confusion as to what needs to be filed and where to ensure that a lender's interest and priority are protected.
How a lender perfects its interest depends on the type of IP asset. Different legal frameworks apply to trademarks, patents, and copyrights. As such, one size does not fit all when recording and perfecting security interests.
Trademarks
The Lanham Act, which governs federal trademark registration, does not specifically address security interests. Accordingly, filing a UCC-1 financing statement in the state where the owner is located should be sufficient to perfect the security interest in its trademarks. That said, many lenders also record a short document with the United States Patent and Trademark Office ("PTO") that confirms their security interest in addition to filing a UCC-1.
Patents
Like the Lanham Act, the federal Patent Act does not preempt state law regarding the perfection of a security interest in a registered patent. Best practices are similar to that for trademarks: filing a UCC-1 in the appropriate jurisdiction as well as documenting the interest by recording it with the PTO.
Copyrights
Unlike the Lanham Act and Patent Act, the federal Copyright Act does address security interests. The recording system for registered copyrights provides for recordation of security interests in the U.S. Copyright Office as well as a scheme for priority. No UCC-1 is needed for registered copyrights. Unregistered copyrights, however, remain subject to the UCC and lenders should perfect their interests with a UCC-1.
These are just some of the issues involved in asset-based lending secured by intellectual property. Lenders considering such transactions should consult with experienced banking counsel as well as intellectual property attorneys who can work together to provide the guidance, due diligence, and documentation needed to protect their rights and ability to realize on the collateral in the event of default.
The Banking, Finance & Creditors' Rights Group at Latimer LeVay Fyock prides itself on providing insightful and practical advice to clients regarding all aspects of debt and equity financing, including loans secured by intellectual property assets. In such transactions, our banking lawyers work closely with the firm's Intellectual Property Group to provide clients with comprehensive representation so that they can proceed with confidence.
To learn more about IP-based lending and how we can help, please contact Latimer LeVay Fyock today.