Restaurants In Line To Get Much-Needed Assistance From New Grant Fund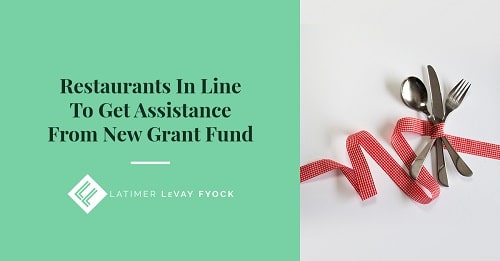 The passage of President Biden's American Rescue Plan on March 11 served up a long-awaited package of financial assistance for a restaurant and hospitality industry that remains decimated by the COVID-19 pandemic.
For bar and restaurant owners who managed to endure and survive this past year and who qualify for the program, the $28.6 billion Restaurant Revitalization Fund (RRF) could provide grants of up to $10 million to cover pandemic-related revenue losses and help maintain operations.
The U.S. Small Business Administration (SBA) will administer and disburse the RRF funds directly to approved applicants.Applicants can either apply through an SBA-recognized POS Vendor or restaurants.sba.gov. Applicants who do not plan on applying through an SBA-recognized POS Vendor can (and must) register at the SBA Application portal at restaurants.sba.gov starting Friday, April 30, 2021 at 9:00 a.m. EDT.
The SBA will begin accepting applications starting on May 3, 2021 at 12 p.m. EDT. The SBA will give priority access to members of priority groups for 21 days, but all eligible businesses interested in the program should register and apply as soon as possible. To be eligible as a priority group, the business must be at least 51% owned by a woman, veteran, or socially and economically disadvantaged individual, and the business must also be controlled by a woman, veteran, or socially and economically disadvantaged individual.
The SBA encourages qualifying applicants to familiarize themselves with the application process, posting a sample application, FAQs, and program guide on its website. The National Restaurant Association has also created a step-by-step guide for applicants.
An RRF grant, if awarded to a qualifying applicant, is not a loan. The grants issued through RRF do not need to be repaid, except for any RRF proceeds that remain unused by a grant recipient at the program's conclusion.
As opposed to the Paycheck Protection Program (PPP), which required applicants to submit their application through a bank or other private lender, the Small Business Administration (SBA) will administer and distribute the RRF funds directly to approved applicants.
As restaurateurs and other business owners in the hospitality industry anxiously await the opening of the application process, here is what we know so far about the RRF:
Who Is Eligible For a Restaurant Revitalization Fund Grant?
Generally, RRF grants are available to the following types of licensed entities and/or places of business- where patrons gather for the primary purpose of being served food and/or alcohol, including:
Restaurants
Bars, Taverns, Lounges, Saloons;
Food Stands;
Food Trucks and Food Carts;
Snack and Nonalcoholic Beverage Bars;
Caterers;
Licensed facilities or premises of an alcoholic beverage producer where the public may sample, taste, or purchase products; and
Other places of business in which patrons assemble for the primary purpose of being served food or alcohol.
Additionally, the following businesses are eligible if they provide documentation with their application that on-site sales of food and beverages to the public comprised at least 33% of gross receipts in 2019:
Inns;
Breweries, Brewpubs, Microbreweries, Taprooms, Tasting Rooms;
Bakeries;
Wineries; and
Distilleries.
Public Companies, Permanent Closure, Bankruptcy, and Other Disqualifying Factors
An otherwise qualifying entity will not be eligible for RRF grants if:
As of March 13, 2020, it (together with any affiliated business) owns and operates more than 20 locations, regardless of whether they do business under the same or multiple names;
It received a Shuttered Venues Operations Grant (SVOG) or has a pending SVOG application;
It is a publicly traded corporation or is majority-owned and controlled by a publicly traded corporation;
It does not have a place of business located in the U.S. or does not operate primarily within the U.S;
It is state- or local government-owned or operated;
It is permanently closed;
It filed for bankruptcy under Chapter 7 or is liquidating under Chapter 11; or
It filed for bankruptcy under Chapter 11, 12, or 13, but does not have an approved reorganization plan.
How RRF Grant Amounts Are Calculated
Generally, RRF grants are based on an entity's pandemic-related revenue losses.
The SBA may provide funding of up to $5 million per location, not to exceed $10 million total for the applicant and any affiliated businesses.
The minimum award is $1,000.
The SBA's program guide contains detailed instructions about how to calculate revenue loss for purposes of the grant, but generally:
Subtract 2020 gross receipts from 2019 gross receipts.
For businesses that were not in operation during the entirety of 2019, total revenue loss is the difference between 12 times the average monthly gross receipts for 2019 and the average monthly gross receipts in 2020.
Businesses that were not in operation until 2020 can still receive a grant equal to the amount of "Eligible Expenses" (see below) subtracted by gross receipts received.
For businesses that were not yet in operation as of the application date, but that have made Eligible Expenses, the grant would be equal to those expenses.
RRF grant recipients must use all RRF funds by March 11, 2023 on "Eligible Expenses" incurred beginning on February 15, 2020 and ending on March 11, 2023. If the business permanently closes, the covered period will end when the business permanently closes or on March 11, 2023, whichever occurs sooner. If an RRF grant recipient does not spend all of its funds, or permanently closes before the end of the covered period as described above,the recipient must return unused funds to the government.
"Eligible Expenses" under the RRF
Eligible Expenses for RRF grants are those incurred from February 15, 2020, to March 11, 2023, or a date range that the SBA will subsequently determine. Eligible Expenses include the following:
Payroll
Principal or interest on mortgage obligations
Rent
Utilities
Maintenance including construction to accommodate outdoor seating
Supplies such as protective equipment and cleaning materials
Regular food and beverage inventory
Certain covered supplier costs
Operational expenses
Paid sick leave
Any other expenses that the SBA determines to be essential to maintaining operations
Effect of Other Pandemic Relief Payments
When calculating RRF grant amounts, the SBA will reduce pandemic-related revenue losses by any PPP proceeds the RRF applicant received in 2020 and/or 2021 from the PPP's "First Draw" and "Second Draw" loans.
Any Economic Injury Disaster Loans (EIDL) or Employee Retention Tax Credit (ERTC) funds will not count towards 2020 revenues. Even so, grant recipients should ensure that they do not use EIDL and/or ERTC funds to cover the same expenses as the RRF grant.
The $28.6 billion appropriated for the RRF will remain available until expended. There are currently no plans for additional funding, so interested businesses should be ready to submit their application as soon as possible after the application process opens on Monday, May 3.
If you have questions about the RRF program, your company's eligibility, and steps you can take now to get ready to apply, please contact the corporate and business attorneys at Latimer LeVay Fyock today.