News
LLF's Bob Minetz Joins CBA Mediation Service, Helping Parties Resolve Disputes Efficiently and Cost-Effectively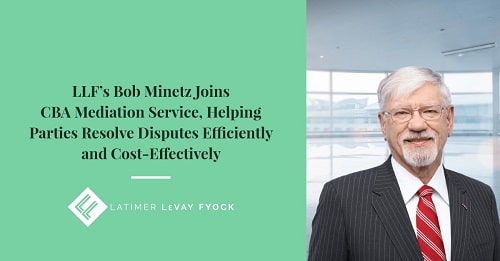 LLF partner and trained mediator Robert Minetz is lending his talents to a new, innovative alternative dispute resolution program launched by the Chicago Bar Association.
The CBA Mediation Service provides individuals and businesses with the opportunity to resolve their differences with the assistance of experienced and highly skilled mediators rather than through costly, lengthy, and expensive litigation.
"Lawsuits may sometimes be necessary, but they are rarely preferable to other avenues of resolving conflicts," Minetz says. "I look forward to helping parties participating in the CBA program find solutions that are less disruptive, more efficient, and far more likely to leave both sides satisfied with the result."
Bob is one of more than 50 mediators participating in the program, all of whom use their training and insights to help parties settle conflicts involving family law, personal injury, real estate, subrogation, commercial law, and other types of cases. All mediators are CBA members with at least ten years of practice experience and have completed a comprehensive mediation training course.
The CBA Mediation Service is available to any interested parties who are represented by counsel, whether before or after the filing of a lawsuit. Mediators can conduct sessions virtually or in person for a fee of $400 per hour with a four-hour mandatory minimum. Participants can expect an excellent chance of resolution while negotiating in a safe environment with an experienced CBA mediator.
If you would like to learn more about the CBA Mediation Service or are interested in utilizing the program, please contact Bob Minetz at rminetz@llflegal.com.