News
LLF Attorney Colin O'Brien Expands Firm's Data Privacy and Information Security Capabilities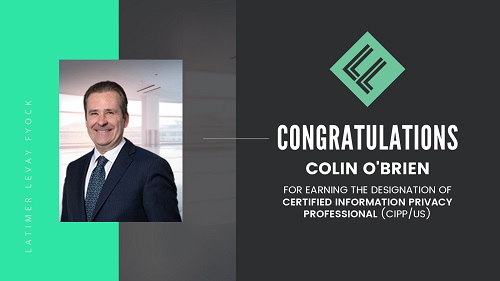 The recent ransomware attack on the Colonial Pipeline is just the latest in a constant drumbeat of cyberattacks, data breaches, and information security failures that threaten businesses of all sizes in every industry. In response to the growing needs and concerns of our clients and to help better protect them against these costly disruptions, Latimer LeVay Fyock intellectual property attorney Colin O'Brien recently earned the designation of Certified Information Privacy Professional (CIPP/US).
Granted by the International Association of Policy Professionals, the CIPP/US designation certifies that an individual has mastered a core foundational understanding of U.S. data privacy laws and regulations. It also reflects that the designee has comprehensive knowledge of how those laws and regulations intersect with the technical and practical principles of data collection, retention, protection, and use practices.
"Our business clients not only need to shield themselves against malicious actors, but they also need to establish policies and protocols that keep them in compliance with a complex web of federal and state laws, such as the Illinois Biometric Information Privacy Act," O'Brien says. "The knowledge and capabilities we've gained through CIPP/US certification expand our ability to assist clients on these fronts."
If you would like to learn more about how Latimer LeVay Fyock can help your business minimize the risks of cyberattacks and non-compliance, please contact Colin O'Brien or any of the attorneys in the firm's Intellectual Property Group.
The Supreme Court of Illinois does not recognize certifications of specialties in the practice of law, and the CIPP/US credential is not a requirement to practice law in Illinois.