How to Start a Business: From Pipe Dream to Reality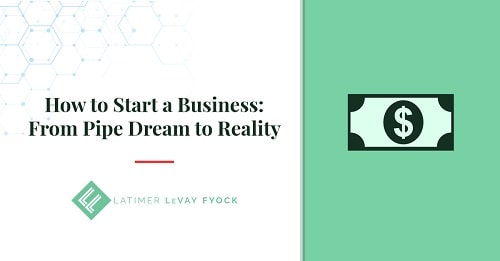 No matter what industry they're in, no matter what innovation they develop, product they sell, or service they provide, all businesses start with the same thing: a dream. Turning that dream into a viable, growing, and profitable company takes vision, guts, and hard work. But it also takes thoughtful planning. Entrepreneurs need to have a fundamental understanding of the many steps involved in launching a business if they want to give themselves the best chance at success.
Consider the following as a road map for your new business journey; a map that will point you in the right direction, help you identify potential hazards and roadblocks, and keep you moving forward.
Start With an Idea
Entrepreneurs don't say, "I want to start a business." They say, "I want to start a business that does/makes/sells/provides ________." Whatever fills in that blank, you need to ask yourself some basic questions about whether it is worthy of pursuing as a new business:
How feasible is the idea? A time machine is a great idea, but if you don't have the technology, knowledge, or resources to make one, a great idea is all that it is.
Whose help do you need? Entrepreneurs may be great at some things, but not so good at others. Figure out who you need on your team: partners, attorneys, accountants, managers, etc.
What do you need to get going? Unless you have ready access to lots of cash, you will need to figure out how and where to get the funding you need for space, equipment, personnel, and other expenses.
Develop a Business Plan
A solid, detailed, and realistic business plan not only can guide you as you move forward, but it is also essential if you want to attract and get buy-in from potential investors and talent. Your business plan should include the following:
Executive summary. This is a high-level summary of what the plan includes, often touching on the company description, the problem the business is solving, the solution, and why now is the right time for the idea.
Business description. Discuss the nature and purpose of the business, the state of the industry and marketplace, and objectives for the future.
Market strategies. Identify your target market and the strategies best suited to penetrate that market. Look at competitors, figure out their strengths and weaknesses, and outline how you intend to beat them in the marketplace.
Design and development plan. How will you build-out and scale your idea? How much will it cost? How long will it take?
Operations and management plan. Define roles and responsibilities and how the business will be run on a day-to-day basis.
Financing. How much do you need now and in the future? Where is it coming from and when?
Get Feedback/Do Research
You may think you have a billion-dollar idea, but if you are the only one who thinks so, it isn't worth a nickel. Get input from others about your concept and plans. Be open to constructive criticism and don't be discouraged by negative feedback. If people point out problems, focus on finding solutions.
Money and Financing
A great idea without money behind it is like a gleaming sports car without an engine; it looks good but isn't going anywhere anytime soon. Entrepreneurs have many possible avenues to obtain the capital they need to get moving. Which funding sources are right for your business depends on your unique circumstances, but can include:
Equity investors
Partners
Small Business Grant
Crowdfunding
Online Angel Investors and Groups
Venture capital
Small business/tech Incubators
Bank loans
Understand that any funding source is not going to write you a blank check or give you large sums of money without doing their due diligence. This means you need to have documentation, agreements, and other structures in place to reassure investors that they are making a good bet on your business.
Choosing and Forming the Right Business Entity
Unless you want to put all of your personal assets at risk as part of your new venture, you will want to form a corporate entity for your business rather than operating as a sole proprietor. The most common entity choices for new business owners are:
S-corporations
C-corporations
Limited liability company
General or limited partnership
Each type of corporate form has its advantages. Your business attorney can walk you through the process and help you select the entity best suited to your goals.
No matter what business form you choose, you will need to prepare and file documentation with the state in which you are forming your company and/or its principal place of business. As a threshold matter, you will want to make sure that the name you choose for your business hasn't already been taken. Then, you will proceed to form your entity by filing documents such as:
Articles of Incorporation/Articles of Organization
Application for a federal Employer Identification Number (EIN)
State TAX ID
Assumed Name Application/DBA
Annual report, every year on the anniversary of formation
Once you form your entity, open a separate bank account in the company's name. You will need to prepare initial corporate documents as well, including:
Operating Agreement
Partnership Agreement
Initial Minutes
Membership Interest Certificates
Membership Interest Ledgers
Company Book
Bylaws
Resolutions
Protect Your IP and Build Your Brand
Establishing your business means establishing your brand. That means you need to protect the intellectual property that defines your business, including the unique products or services you developed (patents), and your company name, tagline, or logo (trademarks). Obtaining patents and trademark registrations are critical, but the process can be complex and time-consuming. You should retain experienced intellectual property counsel to help you protect these indispensable assets.
You will want to build your brand's presence and increase its visibility in the marketplace. Launch your website, establish a social media presence, or run email campaigns as part of a comprehensive and well-developed marketing strategy.
People and Places
Identify your personnel needs and embark on a search to find the right people to fill those roles. Consider retaining an executive search company or recruiter to help you.
You'll also need a place to set up shop. Determine your space needs and desired location. Work with agents and attorneys before leasing or purchasing any property for your business
Obtain Necessary Licenses and Permits
Depending on the nature of your business, you may need permits and licenses issued by the state, county, or municipality in which it is located. You may need to collect and pay sales tax, obtain zoning approvals or variances, or apply for liquor or other specialized business licenses before you can legally open your doors.
Ready to Launch
Once you put all of the foregoing ducks in a row, you are ready to take your entrepreneurial dream and turn it into a money-making reality. But behind every successful entrepreneur is a team of advisors who can help them navigate the legal, financial, and practical challenges involved in starting and running a business. If you need guidance and assistance getting your business up and running, please contact one of the attorneys in the Corporate and Business Transactions Group at Latimer LeVay Fyock today.