H1-B Employers: Big Changes to Lottery Process, Action Required By MARCH 20TH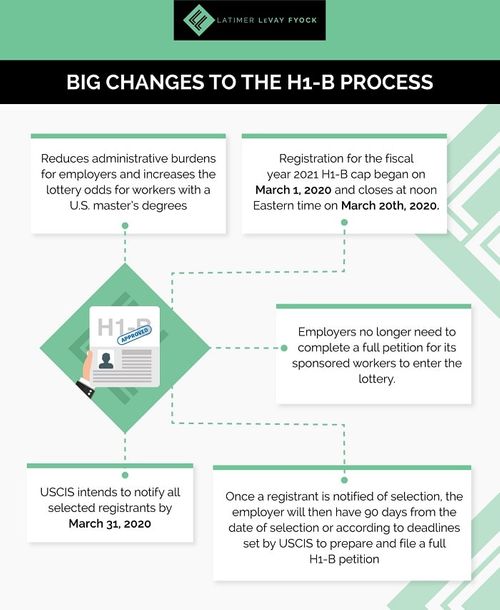 Companies that rely on employees who are authorized to work in the U.S. on H1-B visas face a new registration, application, and lottery landscape this year. Significant changes to the H-1B process make it dramatically different than years past. While the new system reduces administrative burdens for employers and increases the lottery odds for workers with a U.S. master's degree or higher, it requires immediate action by sponsoring companies. Registration for the fiscal year 2021 H1-B cap began on March 1st, 2020 and closes at noon Eastern time on March 20th, 2020.
Here are what employers need to know to ensure that they have the highly skilled workers they need in the year ahead.
Simplified Registration Before Burdensome Petitions
As most companies with H1-B employees know, U.S Citizenship and Immigration Services (USCIS) usually receives more petitions for this coveted visa than authorized to be issued each year. That is why USCIS would historically select filed petitions through a random lottery process. Those selected in the lottery would then proceed to have their petitions adjudicated by USCIS and, if all went well, the petition would be approved and H1-B visa issued.
Before this year, sponsoring employers needed to complete and submit a Form I-129 Petition for a Non-Immigrant Worker along with supplemental and supporting documents for each applicant to participate in the lottery. Completing over 42-pages of forms and preparing and filing supporting documents like LCA's, drafting support letters/itineraries of work, and reviewing employer and employee files are time-consuming and burdensome. Needless to say, companies were unenthused about having to engage in this exercise and pay these costs even though there was a good chance the petition would never see the light of day and not be selected in the lottery.
Additionally, because, USCIS does not accept e-filing for H1-B applications and all materials need to be printed on one-sided paper, large amounts of paper were wasted since USCIS would return all unselected petitions, which would then be shredded. This made for a very environmentally unfriendly process.
Fortunately, USCIS recognized that while the voluminous amount of information contained in Form I-129 was necessary to process and approve an H1-B visa, it was not needed to participate in the lottery. Employers no longer need to complete a full petition for its sponsored workers to enter the lottery.
Employers can now enter workers into the 2020-2021 lottery through a simple electronic registration process along with the payment of $10 for each applicant. While registration is now quicker and easier, the window for registering is short and the deadline for lottery participation is approaching.
The information required for registration also needs to be 100% accurate. Slight errors like duplicate entries of a same H1-B candidate by an employer will invalidate that candidate's qualification for the H1-B lottery and H1-B approval. Employers still will collect all necessary documents from employees and closely verify every single entry before submitting the registration.
In addition, the simpler process and comparatively lower costs to enter the lottery make it possible for employers to include more qualified employees in the H1-B lottery. Thus, the higher work intensity, larger quantity of cases and unknown issues due to a new system make it essential that a legal representative of an employer possess a high degree of diligence and excellent problem-solving ability.
After the registration period closes at noon Eastern time on March 20, USCIS will then conduct the H1-B lottery. USCIS intends to notify all selected registrants by March 31st, 2020. However, a registrant that is not selected by March 31st, 2020 will still have a chance to be selected by the end of the fiscal year if USCIS does not fill the quota of 85,000 visas due to cancelations or invalidation of selected H1-B petitions. Once a registrant is notified of selection, the employer will then have 90 days from the date of selection or according to deadlines set by USCIS to prepare and file a full H1-B petition with the USCIS by submitting appropriate fees and supporting documents. If USCIS approves the petition, it will issue the H-1B visa.
Lottery Order Reversed
The other major change to this year's H1-B process is the order in which USCIS will conduct the lottery. While the annual cap on H1-B visas is 85,000, that number is divided into two separate caps, each with lotteries: 65,000 for eligible workers, and 20,000 for those with a U.S. master's degree or higher.
Historically, USCIS conducted the U.S. master's lottery first, and then would enter unselected registrants into the subsequent regular cap lottery with all other eligible registrants. Now, USCIS will conduct the lotteries in reverse order, with the regular cap lottery preceding the U.S. master's lottery.
This means that U.S. master's holders can participate, and be selected, in the first-round regular lottery. USCIS will then automatically enter all unselected U.S. master's registrants from the regular cap lottery into the U.S. master's lottery, the second round, giving them another chance at being selected. With USCIS selecting 20,000 registrants from a much smaller pool of left-over U.S. master's registrants, the selection chances of a registrant with a U.S. master's or higher degree will significantly increase; USCIS anticipates that those chances will now be 16% higher.
The deadline for H1-B lottery participation is rapidly approaching. All employers whose workforce plans include the highly skilled and specialized employees who require H1-B visas must act now to ensure that those workers have the opportunity to obtain one. If you are an H1-B sponsor or worker and have questions about the new registration and lottery process or need assistance with your registration or petition, please contact one of the experienced immigration lawyers at Latimer LeVay Fyock today.