Estate Planning in the time of Coronavirus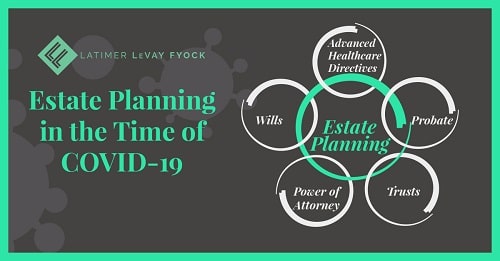 During the current crisis, we are fielding lots of questions from individual and business clients alike. The impact of the COVID-19 pandemic is both unprecedented and profound, presenting a host of new challenges for our clients. It is also causing many of them to address long-delayed estate planning issues or revisit the plans they have in place to protect themselves, their families, and their assets.
We have heard from clients who are digging into desk drawers, filing cabinets, or safe deposit boxes, looking at their estate planning documents for the first time in years. We talk with others who want to make sure that they have or can obtain powers of attorney and advance healthcare directives for themselves and their college-age children. Several of our small business clients, facing a host of difficulties and a rapidly changing legal and business landscape, need to know what they should be doing in terms of succession and continuity planning.
As lawyers, small business owners, parents, and children ourselves, we certainly understand and share these same concerns. While we remain focused on the health and safety of our professionals and those around us during this crisis, we are equally committed to providing our clients with answers to their questions, sound guidance, responsive service, and the same quality legal services they have come to expect from us.
If you have estate planning or business succession questions or need documents reviewed, changed, or prepared, our estate planning lawyers are here to help. Please communicate with LLF as you usually would and know that we have protocols in place to ensure the security of confidential documents and emails.
We can meet with you on conference calls or through video calls, draft and deliver any needed documents electronically for your review and signature, and otherwise provide estate planning counsel seamlessly and efficiently. If you need copies of estate planning documents we prepared for you, we can get those into your hands as well.
If You Have an Estate Plan in Place
If you have an existing estate plan, especially one that was prepared a while ago, now is a good time to revisit your documents to make sure they comport with your current circumstances and objectives.
Events like remarriage, stepchildren, minor children becoming adults, or relationship changes may require updates to beneficiary designations or the identity of trustees, agents, or guardians. Significant changes to the size and complexity of asset portfolios, especially in the context of a volatile economic situation, may also warrant a review and modification of a will or trust.
Many clients with existing estate plans are also looking at their powers of attorney for healthcare and property, documents crucial in the event of serious illness or incapacity. If you prepared these documents many years ago, your perspective on your medical care or handling of your affairs if such tragedy strikes may not be the same as it was when you first signed them. We can review these documents with you and revise them if needed.
For small business owners, we can conduct a similar review of your business succession planning and continuity planning documents to make sure that they have kept up with both the growth of your business as well as the fluidity and uncertainty of our present situation.
If You Don't Have an Estate Plan
If you have yet to prepare an estate plan and feel the time has come to do so, we can work with you to craft documents tailored to your needs and goals just as we would under normal circumstances. This is especially important for individuals with minor children or the parents of children with special needs. We will prepare your documents, review them with you remotely, and help you arrange for their signature.
Special Note For Parents of Adult Children
COVID-19 has sent hundreds of thousands of college students back home to live with their parents indefinitely. Most of those students are over 18 and thus legal adults. Parents may not realize it, but once their child turns 18, they no longer have the automatic right to access the child's medical or financial records or make decisions for them. If tragedy strikes, parents can be left somewhat helpless in the time of their child's greatest need, with doctors perhaps declining to share vital information about their child's condition.
As such, it is essential that college students and other young adults prepare advance care directives and powers of attorney appointing either their parents or other trusted individuals to make decisions on their behalf if they are not able to do so themselves.
You will also want to have your child execute a Power of Attorney for Health Care and a HIPAA authorization and release form (and parents should have this form for themselves as well). These documents will give parents the ability to make health care decisions for their adult children in the event of incapacity and give physicians permission to share and discuss a child's medical information with their parents or other individuals designated on the form.
A power of attorney for finances (also known as a Durable Power of Attorney or Power of Attorney for Property) will allow a parent to take care of their child's bills, deal with their landlord, access their bank accounts, and otherwise handle their affairs if they become incapacitated.
We're Here For You
As unsettling as this time is, we will make it through together. The attorneys and staff at Latimer LeVay Fyock will be here for you throughout the crisis, and will be here for you after it passes. Do not hesitate to reach out to us with any estate planning questions or concerns.
Stay well.