Challenging The Narrative – Part I: Securities Professionals and Claims Arising From False or Inaccurate Reasons For Termination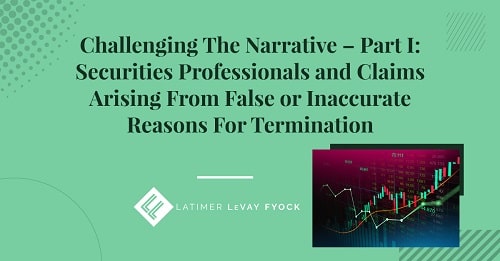 In most industries, the deterioration of an employer-employee relationship is not a matter of public record. Even in situations where an employee is terminated for malfeasance or egregious errors, the substance of those acts and the circumstances of their termination usually stay within the four walls of their now-former office. But FINRA-registered representatives, including registered brokers or financial advisors ("associated persons"), don't have the luxury of such discretion.
When a broker-dealer terminates a FINRA-registered representative, their reasons for having done so, whether or not such reasons are truthful, accurate, or fair, can become a very public albatross that hangs around the neck of the employee for the rest of their career. In egregious circumstances, those reasons whether true or not can end that career.
That's because the information that a FINRA-member provides on the representative's Form U5 detailing its reasoning for terminating an employee will be seen by prospective employers and clients alike. And if those details explicitly or implicitly accuse the employee of wrongdoing or incompetence, it can be a career death sentence.
In addition to the public scrutiny by potential employers and clients, a Form U5 disclosure that describes misconduct by the representative, even if false and misleading, will most assuredly result in an investigation by FINRA, which typically opens an inquiry into any disclosure of an involuntary termination based on alleged wrongdoing. The risks that go along with an inaccurate Form U5 disclosure are significant and broad.
Representatives Need to Play An Active and Careful Role in Setting the Narrative of Their Termination
Inaccurate Form U5 information regarding termination is a common and troubling occurrence in the securities industry. The statements on a Form U5 can be a basis for defamation and tortious interference claims or play a key role in claims of wrongful termination. And such claims are on the rise. Statistics from FINRA Dispute Resolution show that Form U5 defamation cases increased 24 percent between 2019 and 2020.
If you are a securities professional who finds yourself at imminent risk of termination, you need to play an active yet careful role in how your soon-to-be-former employer portrays the end of your employment relationship in Form U5. If you dispute the purported reasons given for termination, consulting with an experienced securities industry attorney before the filing of a Form U5 may facilitate negotiations about the language that winds up in the disclosure. Brokerage firms have 30 days from the date of termination to file a Form U5 with FINRA. That time period allows for the potential to negotiate Form U5 language.
If your employer has already filed an inaccurate narrative in a Form U5 with FINRA, it is even more critical that you retain a securities attorney who can vindicate your rights, protect your reputation, and obtain compensation to make up for the damage done to your career and livelihood.
Larry Landsman, a partner with the law firm Latimer LeVay Fyock, is an experienced trial attorney who has won several FINRA arbitration cases on behalf of financial advisors who brought claims against their former employers for Form U-5 defamation, wrongful termination, and constructive termination. If you have questions or concerns about the circumstances surrounding your termination, please contact Larry to discuss your situation.
This is the first post in a series that will discuss claims arising from a financial advisor's employment relationship with a brokerage firm, including wrongful/constructive termination, defamation, and loan program misconduct.