Business Interruption Insurance Disputes Proliferate In Wake Of COVID-19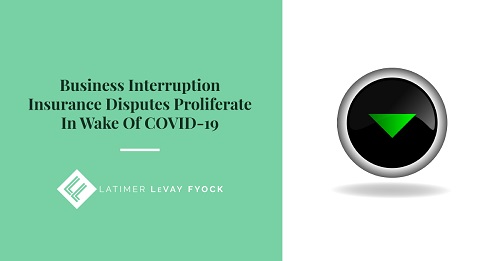 Since the COVID-19 pandemic upended the world, many small business owners have learned the same hard lesson as many other kinds of insureds when making claims under business interruption insurance policies. Like auto, home, or life insurance companies, those that insure small businesses are not necessarily "good neighbors," they are not always "on your side," and owners are not exactly in "good hands" with them. While business was unquestionably "disrupted" during and after the Great Lockdown of 2020 for companies across the country, many insurers have taken the position that pandemic-related closures are not the right kind of disruption that would trigger coverage.
For business owners and entrepreneurs who shelled out tens of thousands of dollars in premiums to protect themselves and their companies, denial of their business interruption claims has been a source of anger, disbelief, and worry about the continued ability to stay afloat. Weren't we being responsible by preparing ourselves for the unforeseen, they think? Why wouldn't business interruption insurance cover perhaps the biggest mass disruption in American business history?
Why Insurers Are Denying Coverage
As any owner can tell you, there are countless occurrences beyond their control that can cause a business's operations to grind to a halt or go haywire. Many of these events – fires, floods, power outages, even riots and civil unrest – are typically covered under business interruption policies. That is because the language of these policies usually limits coverage to interruptions that involve "direct physical damage" to the business or its facilities, equipment, and inventory.
While the pandemic and subsequent lockdown orders shut the doors of countless businesses, the doors themselves were left untouched. As such, insurers claim that the lack of "direct physical damage" from the lockdowns precludes coverage. Additionally, in the wake of the SARS epidemic two decades ago, many insurers specifically excluded coverage for losses caused by or related to viral outbreaks.
Not only are insurers asserting that their policy language mandates the denial of coverage, but they also claim that paying out on pandemic/lockdown claims would bankrupt the industry. According to a recent New York Times article, the American Property Casualty Insurance Association has estimated that it would cost insurers $1 trillion per month if insurers were required to cover all U.S. business interruption losses tied to shutdowns.
How Business Owners – And Legislators – Are Responding
Understandably, business owners are not sympathetic to the cries of poverty from the insurance industry. As they hang on by a thread after the costly coverage that was supposed to protect them turns out to be illusory and worthless, many businesses from mom-and-pop storefronts to NBA franchises are taking their insurance companies to court. Here in Chicago, high-profile restaurant groups Lettuce Entertain You and Gibson's, among many others, are pursuing such actions. The Insurance Journal estimates that there are over 700 pending lawsuits by insureds arising from the denial of their pandemic-related claims.
Lawmakers are also recognizing the profound inequity of the insurers' position. Legislation recently introduced in Congress would create a federal pandemic reinsurance program, modeled after the Terrorism Risk Insurance Act passed after 9/11. Among other things, the bill would bar insurers from excluding viral epidemics from coverage.
What Can Business Owners Do If Their Insurer Denies Their Business Interruption Claim?
Insurers want to deny claims whenever possible; every dime they pay out in claims is a dime less in profits. But that does not mean a denial is justifiable, supportable, or in compliance with the terms of the policy at issue.
If your insurer is refusing to cover your pandemic-related business interruption claims, whether relying on a purported lack of physical damage, a specific exclusion, or other reason, you don't need to simply accept their denial. You can appeal the denial and, as so many other businesses have done, pursue court action against your insurer.
Insurance coverage disputes, particularly this current wave of business interruption litigation, can present novel and complex issues that require skilled counsel to navigate effectively. If you would like to discuss your current situation and explore your options after a business interruption insurance claim denial, please contact the corporate and business attorneys at Latimer LeVay Fyock today.